TPW10BX1 - Wall Mounted HVAC Package
Our TPW10BX1 is a 10kW Vertical Package divided into condenser section and evaporator section. On the top of the condenser case, a condenser top cover is provided for doing major maintenance. On the rear side of the evaporator case, a hinged evaporator access panel is provided for accessing the components and performing the maintenance activities.
Filter access panel is provided on the side of the evaporator case for accessing and replacing the return air filter.
VEHICLES
DRAGLINE & SHOVEL
DRILL
EXCAVATOR
SIGMA
Knorr-Bremse Australia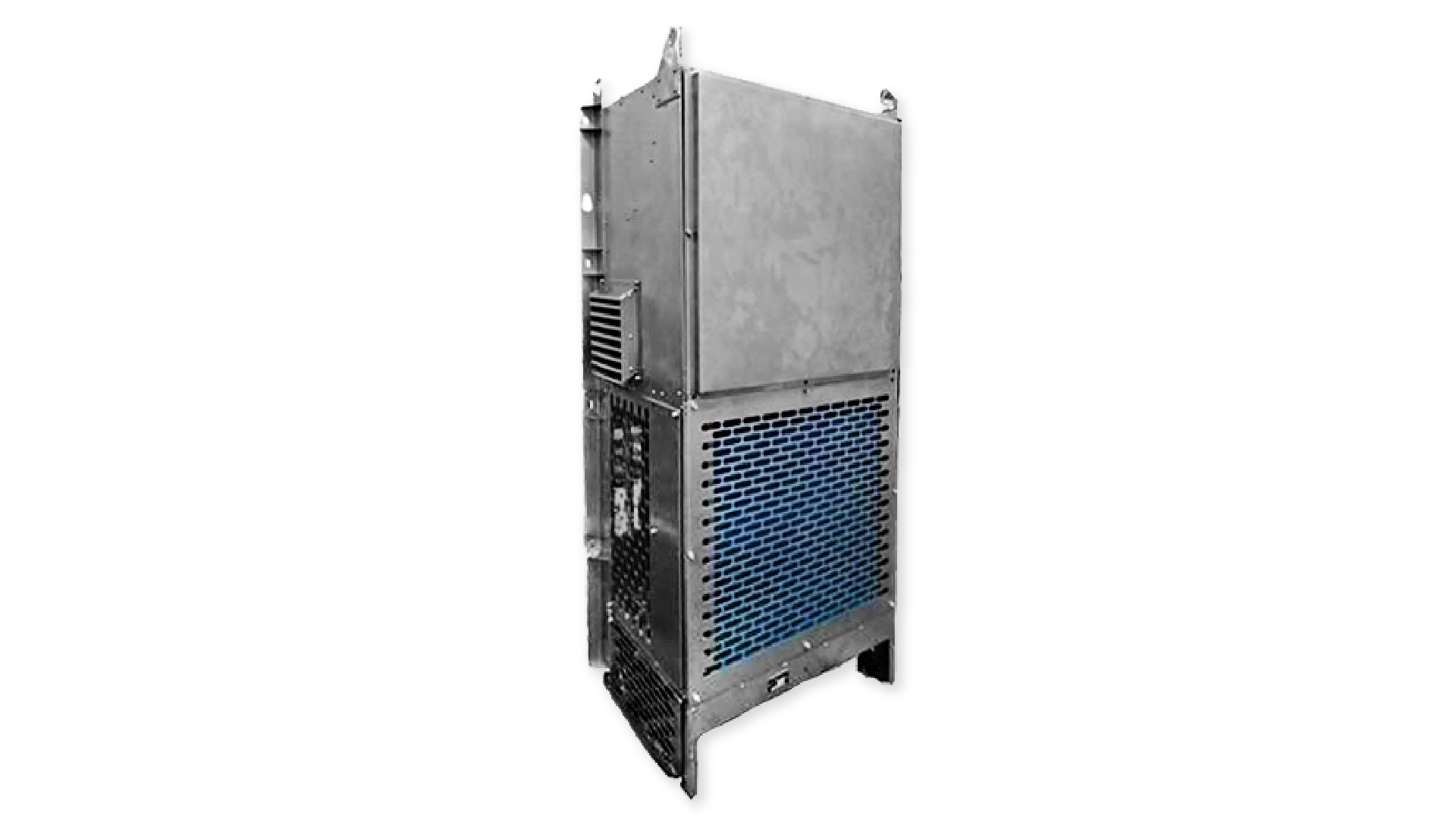 SPECIFICATIONS
| | METRIC | IMPERIAL |
| --- | --- | --- |
| Cooling Capacity | 10.0 kW | 34,120 BTU |
| Fan Speeds | 3 | 3 |
| Air Flow | 350 l/s | 742 CFM |
| Fresh Air | 100 l/s | 212 CFM |
| Power Supply | 24 V | 24 V |
| Current Draw | 43 A | 43 A |
| Refrigerant | R134a | R134a |
| Minimum Ambient Temperature | 25ºC | 77ºF |
| Maximum Ambient Temperature | 54°C | 129°F |
| Weight (nominal) | 160.0 Kg | 352.7 lbs |
| Technical Manual Reference | HD0030589 | HD0030589 |
| Dimension L X W X H | 770mm X 500mm X 1550mm | 30.3in X 19.7in X 61.0in |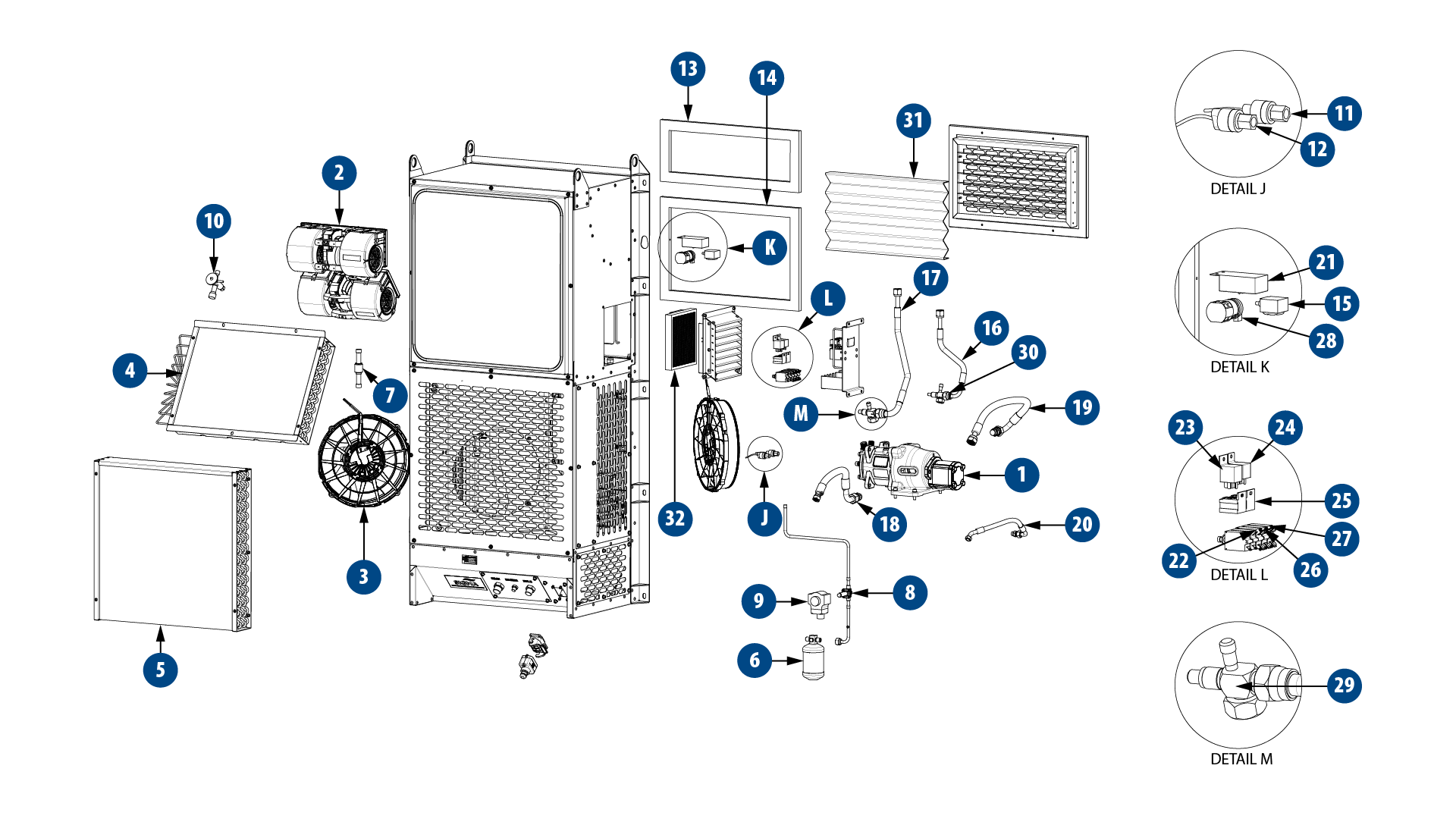 SPARE PARTS LIST
| Sl.No. | PART NO. | DESCRIPTION | QTY |
| --- | --- | --- | --- |
| 1 | H0017489 | COMPRESSOR, FLEX COUPLING, HOUSING HYD MOTOR ASSEMBLY | 1 |
| 2 | H0156797 | EVAPORATOR FAN ASSEMBLY | 2 |
| 3 | H0156798 | CONDENSER FAN ASSEMBLY | 1 |
| 4 | H0139217 | EVAPORATOR COIL | 1 |
| 5 | H0139972 | CONDENSER COIL | 1 |
| 6 | AU531411 | RECEIVER DRIER 3/8" 24UNF 165MM HIGH | 1 |
| 7 | 654D003 | CHECK VALVE | 1 |
| 8 | 654098 | SOLENOID VALVE BODY | 1 |
| 9 | AU668140 | SOLENOID VALVE COIL | 1 |
| 10 | AU521537 | TX VALVE | 1 |
| 11 | H0156794 | HIGH PRESSURE SWITCH | 1 |
| 12 | H0156795 | LOW PRESSURE SWITCH | 1 |
| 13 | H0139910 | SEALING RUBBER SUPPLY AIR | 1 |
| 14 | H0139909 | SEALING RUBBER RETURN AIR | 1 |
| 15 | UE016 | THERMOSTAT DEICE STUD | 1 |
| 16 | H0141844 | DISCHARGE REFRIGERANT HOSE | 1 |
| 17 | H0141843 | SUCTION REFRIGERANT HOSE | 1 |
| 18 | H0173490 | PRESSURE OIL HOSE | 1 |
| 19 | H0173492 | RETURN OIL HOSE | 1 |
| 20 | H0141060 | DRAIN OIL HOSE | 1 |
| 21 | AU681925 | THERMOSTAT 12-24VDC WITH SENSOR+POT | 1 |
| 22 | AU641065 | CIRCUIT BREAKER 25A PUSH PULL | 1 |
| 23 | AU661484 | RELAY 20A 24VDC 5 PIN CHANGEOVER | 1 |
| 24 | AU661483 | RELAY 20A 24VDC 5 PIN | 1 |
| 25 | ERR023 | RELAY BASE 5 PIN (PANEL MOUNT) | 1 |
| 26 | AU641C107 | CIRCUIT BREAKER 10A PUSH PULL | 1 |
| 27 | AU641C110 | CIRCUIT BREAKER 15A PUSH PULL | 1 |
| 28 | H0143675 | SELECTOR SWITCH | 1 |
| 29 | AU230C012 | VALVE 5/8 TUBE #10 R134a SUCTION | 1 |
| 30 | AU230C011 | VALVE 1/2 TUBE #8 R134a DISCHARGE | 1 |
| 31 | H0143292 | RETURN AIR FILTER MEDIA G3 | 1 |
| 32 | H0142578 | AIR FILTER ELEMENT | 1 |
MAINTENANCE
H0142578
AIR FILTER ELEMENT
H0143292
RETURN AIR FILTER MEDIA G3
AU531411
RECEIVER DRIER 3/8" 24UNF 165MM HIGH
H0156797
EVAPORATOR FAN ASSEMBLY
H0156798
CONDENSER FAN ASSEMBLY
AU230C011
VALVE ½ TUBE #8 R134a DISCHARGE
AU681925
THERMOSTAT 12-24VDC WITH SENSOR + POT
H0156794
HIGH PRESSURE SWITCH
H0156795
LOW PRESSURE SWITCH
UE016
THERMOSTAT DEICE STUD



Back to T-Series Overview